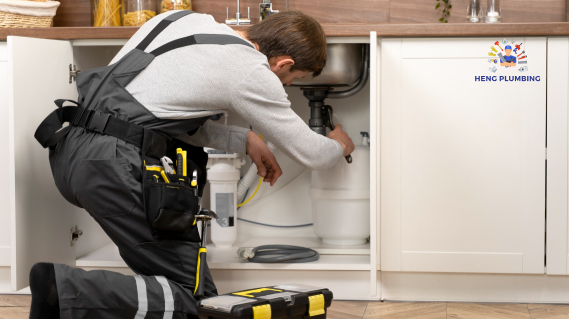 26 Jun 2023
Experiencing plumbing issues in high-rise HDB flats or condos, such as clogged sinks, malfunctioning water heaters, or leaky toilets, is common. Additionally, water damage to the ceiling of the neighbouring residents below can occur due to water seeping through the bathroom or kitchen floor.
To address these problems, it is crucial to seek the help of a qualified plumber. However, concerns about unreliable contractors and unlicensed workers can make the task daunting. Fortunately, by following certain steps, you can find a reliable plumber in Singapore who will meet your plumbing needs efficiently and professionally.
Steps to Finding Reliable Plumbing Services
Seek Personal Recommendations
One of the most effective ways to find a reliable plumbing service in your area is by seeking personal recommendations. Reach out to your friends, family, neighbours, or coworkers and ask if they have recently hired a plumbing service.
Inquiring about their experiences can provide valuable insights into the professionalism, dependability, and quality of service offered by a plumbing company.
Check Online Reviews and Ratings
In today's digital age, online reviews and ratings play a crucial role in evaluating the reputation of service providers. To find a reliable plumber, seek review sites such as Google Reviews, Yelp, or Trustpilot. Look for local plumbing businesses that have a history of excellent reviews and high ratings. Pay attention to specific comments regarding their responsiveness, punctuality, work quality, and overall customer satisfaction. Taking note of these details will help you make an informed decision when choosing a plumbing service.
Verify Licenses and Certifications
It is important to check if a plumbing service holds the necessary licenses and certifications to ensure their proficiency and professionalism. The Public Utilities Board (PUB) oversees licensed plumbers and sets specific regulations for them to follow.
By verifying these credentials, you can have confidence that the plumber you engage is qualified and possesses the technical expertise required to address your plumbing needs.
When selecting a plumber, it is advisable to prioritize their experience. Look for plumbing businesses that have been operating for a considerable amount of time, as they are more likely to have encountered and successfully resolved common toilet plumbing problems that can occur in residential settings.
Furthermore, inquire about their experience in handling specific plumbing issues such as water heater installations, drainage problems, or pipe leaks. Opting for a plumber with specialized expertise and skills in your particular area of concern will ensure effective management of your plumbing problems.
Prompt and Flexible Availability
Given that plumbing emergencies can occur unexpectedly, it is crucial to select a service provider that offers reliable and swift support. Inquire about their response time for emergencies and their availability for scheduled appointments.
A reliable plumbing service should be able to promptly respond to crises and accommodate your schedule, minimizing any disruptions to your daily routine.
Requesting quotations from multiple plumbing providers allows you to compare costs and ensure you receive a fair offer. However, it is important to consider factors beyond price, such as reliability, experience, and skill.
While price should be a consideration, it should not be the sole determining factor. Opting for the cheapest option may result in lower-quality work and potentially lead to more serious problems down the line. Therefore, it is crucial to weigh the overall value, taking into account the provider's reliability, experience, and expertise, alongside the cost of their services.
Warranty and Insurance Coverage
Reliable plumbing services often offer warranties for their work and may have insurance coverage to address any potential damages or mishaps during the project. It is important to ask about the service warranty and any insurance policies they have in place.
Having these assurances in place provides a sense of security, as you are protected from potential liabilities.
Choose K. Heng Plumbing for Reliable Plumbing Services
Finding a reliable plumber in your area requires careful consideration and research. Taking the time to choose the right plumber can help you avoid future implications and costly repairs. When searching for "Plumber service near me" on Google, consider the aforementioned tips to make an informed decision.
At K. Heng Plumbing, we provide reliable home plumbing services in Singapore. Our team of highly is equipped with the necessary expertise to successfully tackle a variety of plumbing problems. From water heater repair to drain cleaning and pipe installations, K. Heng Plumbing excels in offering top-notch services to meet your plumbing needs.